Nippon Institute for
Advanced Study of
Technology
(Tentative name)
To be established in April 2025 (Date is subject to change)
This is subject to change in the future. Message from the Chairman
Accepting unique students and conducting education and
research to help them become technological leaders who can play
an active role on the world stage.
Often, technological inventions are useful in solving various problems in the world. Also, new technologies often bring unimaginable comfort. At Nippon Institute for Advanced Study of Technology (tentative name), we would like to bring together students who have a strong interest in science and technology who do not fit into the current examination system, to learn about new technologies and how to make them useful to society, and to gain experience studying abroad. I would like to build a better Japan and a better world.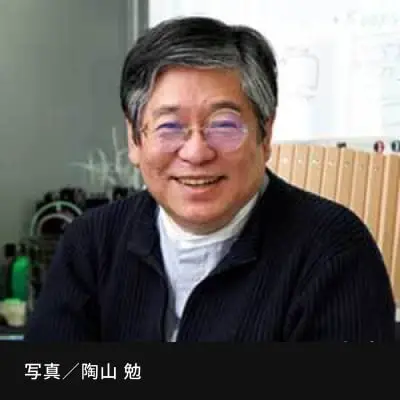 Kazuhiko Nishi
President, Odawara Kyoiku Media
Chairman of the Committee on
Preparation for the Establishment of
Nippon Institute for Advanced Study
of Technology(Tentative name)

The institute provides education and research to foster engineering leaders who can be active in a global society.

To this end, we cultivate problem-solving skills, the ability to generate new ideas and implement them, communication skills mainly in English and Japanese, and deep technical expertise.

Our goal is to provide education and research that will make students feel that learning is fun.

To achieve this goal, students develop the ability to identify problems and find solutions to them through research projects.
Department of Engineering

(set to be established)

Curriculum
■Students study basic education in the first and second years, and specialized education in the third and fourth years.
■The basic education program in the first and second years consists of five sections : Fundamentals of Engineering, 21st Century Skills, Language, Career, and Mind and Body.
■In particular, the "21st Century Skills" section offers a unique perspective on basic education, and includes subjects that enable students to acquire skills such as critical thinking, logical thinking, and the ability to solve problems creatively, as well as basic
skills to become engineers who can play an active role in international society.
■In the basic education course, all classes are conducted in a flipped classroom format. (Flipped classroom refers to a format in which students prepare for classes using video materials and engage in collaborative learning in school classes).
■In addition, students receive specialized education in elective courses in their third and fourth years.
English Education
■Many classes are offered in English.  (These classes do not teach English language, but teach various subjects in English)
■Students can acquire the language skills necessary for studying abroad by studying with foreign teachers and students.
Course List
Surfaces and super-atoms Advanced Materials Engineering Course

Areas of expertise :
Material Engineering, Surface Engineering, Hyperatomic Engineering, Nanocluster Engineering, Food Materials Engineering
Features :
Learn about materials in general, from atoms, molecules, and nano-clusters to food, and not be bound by conventional vertical specialties such as metals, ceramics, plastics, and food, and acquire surface engineering specializing in those surfaces.
Promotion of research and development directly related to industry, including surface treatment for electronic substrates, such as substrates for three-dimensional mounting.
Challenge the development of unknown materials, such as the development of super-atoms (masses of multiple atoms condensed through interaction).

Medical Engineering Course

Areas of expertise :
High-dimensional medical imaging, artificial intelligence (AI), IoT, Surgical simulation, intraoperative navigation, 4D motion analysis
Features :
We promote research and development that is useful in actual clinical settings, not just intra-campus research.
We create new medical technologies based on flexible ideas without being bound by the boundaries of the field.
To foster researchers and educators who understand the preciousness of human
life and can contribute to all humankind.

IoT Media Course

Areas of expertise :
rtificial intelligence (AI), data science, media engineering, future IoT, sensing,
cloud computing, quantum computing, optical and wireless communications, nanotechnology, intelligent robotics
Features :
Develop advanced technologies for practical use in the 2030s, and cultivate the ability to think creatively and flexibly, cultivated through monozukuri.
Actively promote cooperation with industries, including those overseas.
Foster outstanding ventures with high competitiveness and support their start-up.

Mobile Engineering Course

Areas of expertise :
Research and development of 3D mobile vehicles (flying cars, swimming cars, etc.), research and development of automated driving, research and development of high-performance drones, research and development of high-performance electric drive systems, research and development of high-performance engines
Features :
Development of technologies for the next 10 to 20 years and creation and support of ventures based on these technologies.
Fostering practical students by providing them with a series of experiences in manufacturing.
Creation of competitive and practical devices and systems based on industry-academia collaboration.

Earth and Moon Science Course

Areas of expertise :
Earth and lunar science and technology for building a sustainable society based on the assumption of life on the moon, deciphering the earth system and creating new technologies for disaster prevention and mitigation, and studying earth history from various perspectives.
Features :
The ultimate recycling is essential for life on the moon. Through thought experiments based on the assumption of life on the Moon, we will create the technologies necessary to build the foundation for a sustainable society on Earth.
We will learn how to decipher the mechanisms of climate change, earthquakes, tsunamis, and other disasters facing the world by observing nature around us, and develop new technologies for disaster prevention and mitigation using IoT.
The 4.6 billion years of Earth's history is the best textbook. Learn about the history of the Earth and develop the ability to respond to global changes caused by natural phenomena
The campus will be located at the former Kanto Gakuin University's Odawara campus in Odawara City.
1162-2 Ogikubo, Odawara-shi, Kanagawa-ken 250-0042